Page 1 of 4
The Director of the Directorate for Coordination of Police Bodies of BiH, Mirsad Vilić, and his deputies Uroš Pena and Mile Jurić, held a regular meeting today (31st July 2014) with EUFOR's Chief of Staff, Brigadier General Andras Szucs.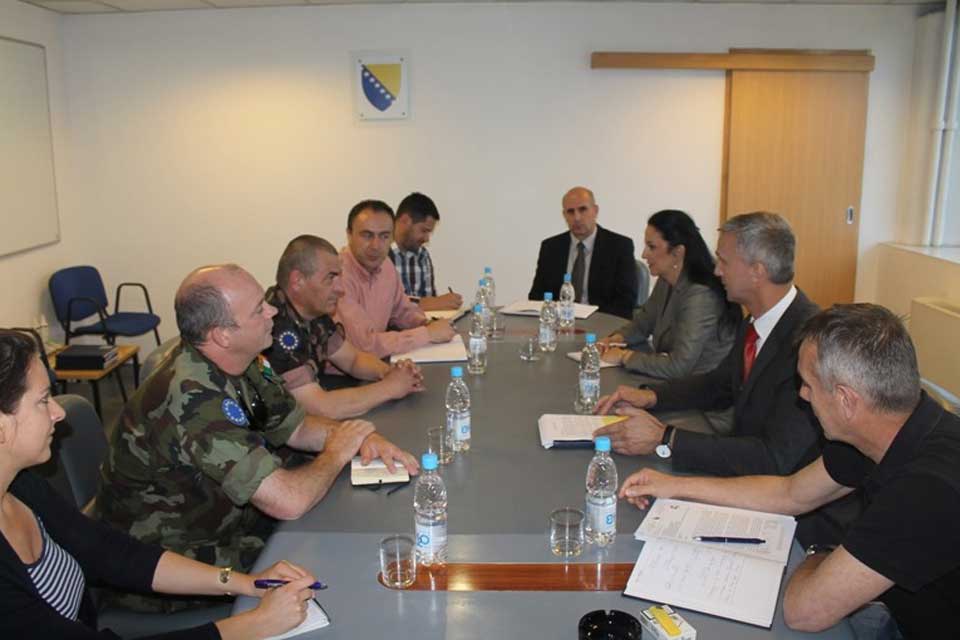 During the meeting they discussed the activities carried out in accordance with the Memorandum of Understanding between EUFOR and security structures in BiH on the exchange of classified information without security classification and intelligence information exchange. At the meeting, next steps in the implementation of this Memorandum have been agreed. In addition Brigadier General Szucs gave a brief overview of the activities undertaken during the recent floods in BiH.
When speaking about the increased numbers of EUFOR troops in BiH which has attracted public attention, Brigadier General Szucs explained that the troops are here to enhance existing EUFOR activities. This includes road reconnaissance with regard to bridge building projects, capacity building and training with Armed Forces BiH, and supporting LOTs in the interaction with the local authorities. EUFOR LOTs will continue to maintain regular contact with key representatives of the local community in order to accurately inform local authorities in BiH about EUFOR activities.
Spokesperson:
Lt Cdr Alice Williams-Allden
00387 (0)33 495 216
00387 (0)66 914 665
This email address is being protected from spambots. You need JavaScript enabled to view it.
Chief Public Affairs Office:
Lt Col Alexander Pehr 00387 (0)33 495 214
00387 (0)66 914 664
This email address is being protected from spambots. You need JavaScript enabled to view it.