Page 1 of 4
On 12 January 2014, the State Secretary of the former Yugoslav Republic of Macedonia Ministry of Defence, Mr Sasho Stefanovski, visited Monument Park in Camp Butmir to remember the 6th anniversary of the helicopter crash, where 11 members of the Macedonian contingent of EUFOR died. EUFOR formed a Guard of Honour to pay their respects to those who lost their lives.
Mr Sasho also attended an office call with Commander EUFOR, Major General Dieter Heidecker, and visited the Camp Butmir Medical Centre, which is staffed by Macedonian Armed Forces personnel.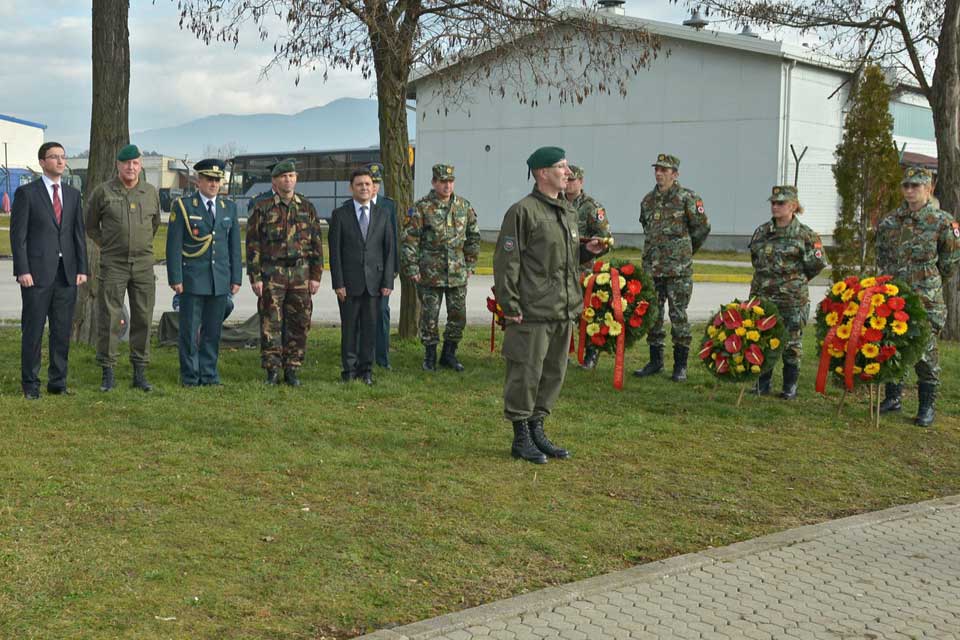 In his speech, General Heidecker said:
"This ceremony allows us an opportunity to remember once more the tragic circumstances which caused the deaths of so many and the opportunity to recall their lives, their exceptional spirit, their professionalism and their contribution to the cause of peace and stability in Bosnia and Herzegovina. They, and their families, paid a heavy price for their service to EUFOR but as we mourn their loss, we celebrate their lives and their dedication and devotion to duty and peace."
The helicopter, a former Yugoslav Republic of Macedonia Armed Forces MI-17, was en route from Camp Butmir to Skopje when it crashed due to bad weather on 12 January 2008. All 11 persons onboard died, including 8 passengers and 3 crew members.
Chief Public Affairs Office:
Lt Col Otmar Lindner
00387 (0)33 495 214
00387 (0)61 131 579
This email address is being protected from spambots. You need JavaScript enabled to view it.
Spokesperson:
Lt Cdr Jim Love
00387 (0)33 495 216
00387 (0)66 914 665
This email address is being protected from spambots. You need JavaScript enabled to view it.