Page 1 of 4
Between 11-13 February 2020, Lieutenant General Olivier Rittimann, the Operation Commander for Operation EUFOR Althea, and Lieutenant General Antonio Vittiglio, Head of the European Union Command Element, visited the EUFOR mission in BiH. COMEUFOR, Major General Reinhard Trischak, welcomed Lieutenant General Rittimann to Camp Butmir and gave an update EUFOR's latest activity and the current situation in BiH.
During the second day of the visit, Lieutenant General Rittimann and Major General Trischak met with key military and political figures; the Minister of Civil Affairs of BiH, Ankica Gudeljević; the Minister of Security of BiH, Fahrudin Radončić; the Deputy Minister of Defence of BiH, Mijo Krešić, and the Armed Forces BiH Chief of the Joint Staff, Lieutenant General Senad Mašović.
Issues covered during these meetings included the continuation of work within the Master Plan for the safe management and disposal of ammunition, weapons and explosives, notably the marking of small arms and light weapons in BiH; and also support to the Mine Action Stratey for BiH to become a mine free country as soon as possible.
In a statement at the Ministry of Defence, Lieutenant General Rittimann said:
"It's very important to have a close cooperation with your ministry…to the mutual benefit of Bosnia and Herzegovina and of the European Union." He stated that EUFOR remains ready to support the Bosnia and Herzegovina authorities in order to maintain peace and stability.
Deputy Minister of Defence Krešić stated:
"Cooperation with EUFOR has always been of great importance to us, and I am glad that both of us have expressed our hope that joint activities will continue to the benefit of all residents of BiH." He also expressed his: "…appreciation and pleasure with the support from EUFOR and European Union."
The Final day of the visit consisted of a briefing from the EUFOR Liaison Observation Team (LOT) in Sarajevo about their work in the community and a meeting with the BiH Parliamentary Military Commissioner. Lieutenant General Rittimann and Major General Trischak were then guests at the Commissioning Ceremony for the 6th Class of Officers commissioned into the Professional Military Service of the AF BiH.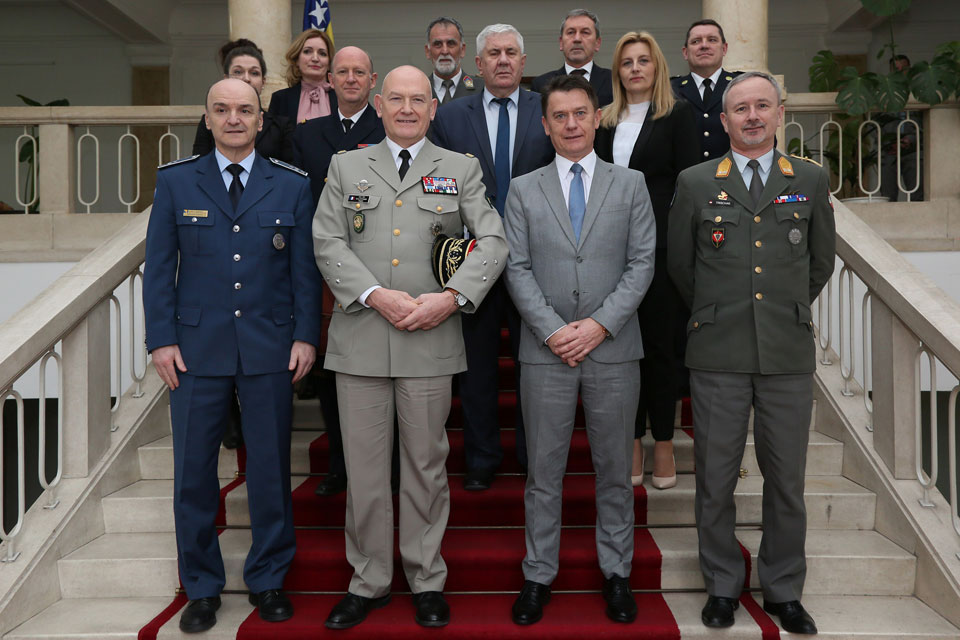 For further information contact:
Public Affairs Office: Mrs Elma Robovic
Office: 00387 (0) 33 495 393
Mobile: 00387 (0) 61 219 097
This email address is being protected from spambots. You need JavaScript enabled to view it.
EUFOR Spokesperson: Lieutenant Commander Carl Perry, Royal Navy
00387 (0) 3349 5216
00387 (0) 61 472 931
This email address is being protected from spambots. You need JavaScript enabled to view it.