COM EUFOR Major General Helmut Habermayer visited the Headquarters of 5 Infantry Bde, AFBiH in Tuzla. On arrival at Camp Dubrave, COM EUFOR met with Colonel Emir Kliko, 5th Infantry Bde Commander, during which they had a positive discussion surrounding the cooperation between EUFOR and the AFBiH.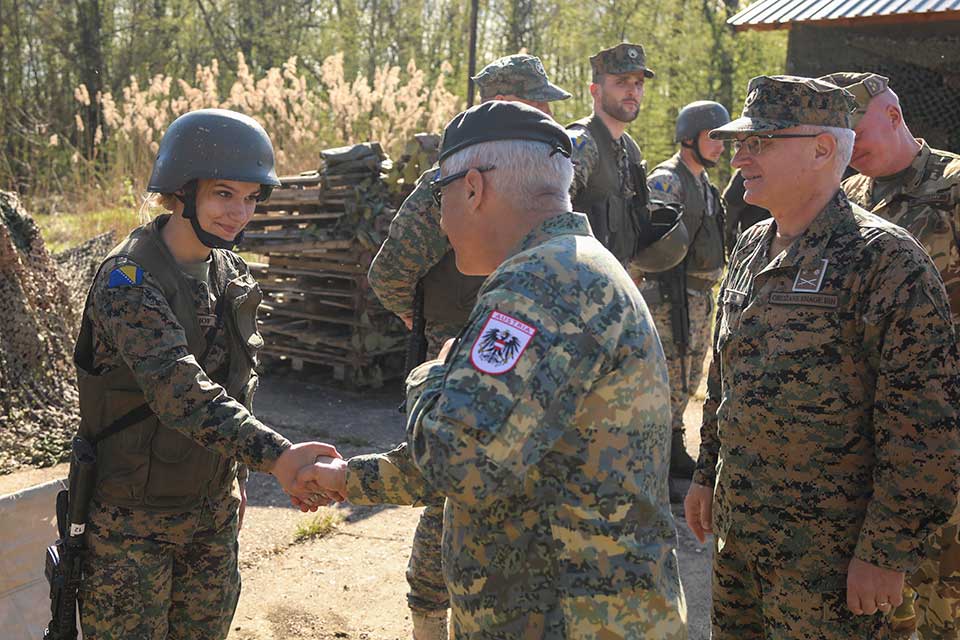 Following this, COM EUFOR received an information briefing on 5th Infantry Bde, where the key operational and training tasks of the Brigade were explained.
COM EUFOR commented very positively on the high number of female personnel serving within the Brigade, nearly 12%, the highest percentage within AFBiH formations. The Commanders discussed the status of Reserve Forces within the AFBiH and the current manning challenges experienced by the Bde. The planned training activities of the Light Infantry Battalion Group in 2023 were discussed, along with the prospects of future foreign deployments for its personnel.
COM EUFOR then attended a display by the 5 Infantry Bde's Recce Company. During this display, the tactics, capabilities and equipment of this unit were presented and discussed. COM EUFOR spoke to the members of the Recce Company about his time a Recce Platoon Commander in the Austrian Armed Forces during the Cold War. He complimented the Recce troops on their professionalism and commitment to serve within such a specialised unit.