A team from the EUFOR LOT House Mostar visited the United World College (UWC) in Mostar to brief Bosnian and international students on the work of EUFOR on Monday 11 February.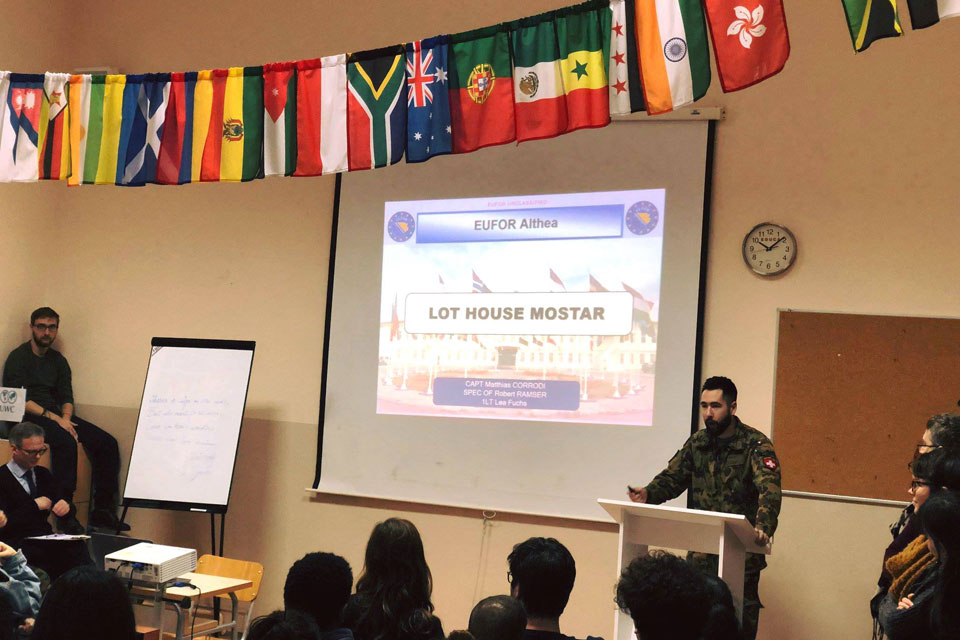 Captain Matthias Corodi, First Lieutenant Lea Fuchs and Special Officer Robert Ramser delivered lectures on the role of EUFOR Bosnia and Herzegovina, and the role of women in the EUFOR and the Swiss Army.
The presentations were delivered to a group of over 130 students from over 60 different nationalities; in the audience were over 40 students from Bosnia and Herzegovina.
After the visit, Mark Feltham, Headteacher of UWC Mostar, expressed his thanks to the team from LOT House Mostar for explaining their work in Mostar, and the work of EUFOR in Bosnia and Herzegovina. Special Officer Ramser shared his own story of his path from UWC student to EUFOR; this gave students an insight in to how one can follow UWC values whilst working in the military.
Special Officer Ramser said: "As a former UWC student, it was a great pleasure to present a lecture on the Swiss involvement in EUFOR to the students of UWC Mostar." UWC was founded in 1962 to offer an educational experience based on shared learning, collaboration and understanding so that the students would act as champions of peace; UWC Mostar was founded in 2006 and is described as being firmly established as a College at the heart of the UWC movement.