Today EUFOR marked the handover of one of the two Liaison Observation Teams (LOT) Banja Luka from Chilean to Slovenian EUFOR personnel. Present for the closed ceremony was COMEUFOR, Major General Alexander Platzer, and Slovenian Ambassador to Bosnia and Herzegovina, H.E. Zorica Bukinac. The event marked the conclusion of over 18 years of Chilean service in LOT Houses.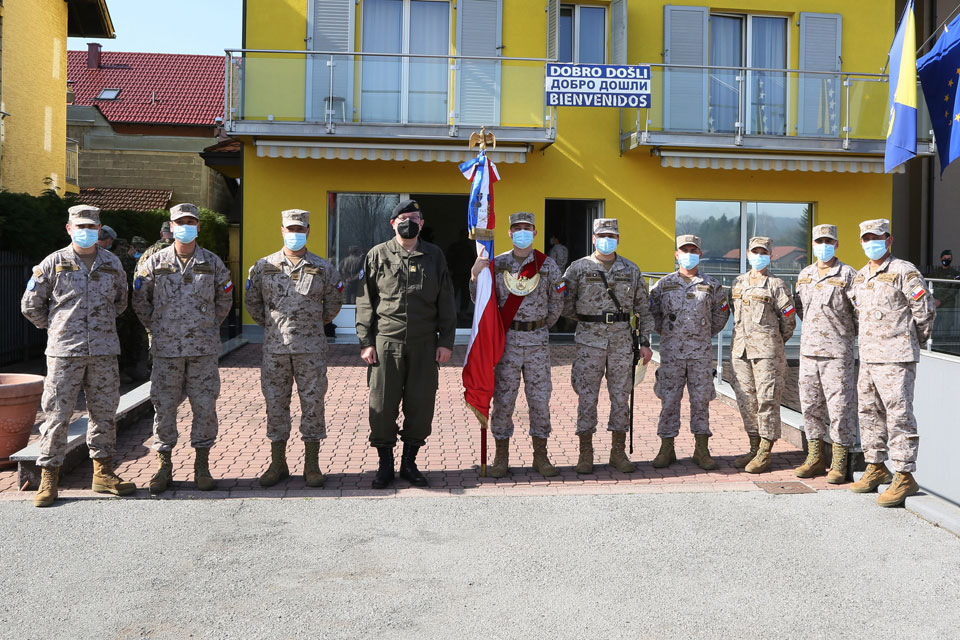 Chile previously were based in LOT Houses in Sanski Most, Bosanska, Gradiska, Prnjavor, and Prijedor with 272 Chilean soldiers collectively serving in them. Chilean personnel will continue to serve in BiH, in other appointments within EUFOR.
COMEUFOR applauded the Chilean personnel;
"It is my honour and privilege as Force Commander to thank you, and all the Chilean soldiers who have served here for you excellent work for EUFOR".
This also marked the first time that Slovenian personnel occupy a LOT House. During his address COMEUFOR encouraged the Slovenian soldiers taking charge of the LOT House;
"You now take over a very strong heritage. I ask you to fulfill the mission here in the same outstanding way your Chilean colleagues did. The people here, the mission and myself, we have the highest confidence in you. I wish you all the best for the new task, for the new mission."
The ceremony also marked the commendation of Chilean soldier for his exceptional performance during his deployment in LOT Banja Luka, and the promotion of a Chilean NCO and officer was also celebrated.
Through the network of 17 LOT Houses spread across the country EUFOR continues to maintain a good situational awareness in BiH. The soldiers in the LOT Houses regularly interact with their local communities.