On 5 February 2021 EUFOR Camp Butmir was proud to hold an International Medal Parade for 105 Service personnel from 11 different Nations. The soldiers, sailors and airmen based at Camp Butmir and serving throughout BiH were addressed at the formal ceremony by the Commander of EUFOR, Major General Alexander Platzer. He thanked all attending for their effort and dedication and the service they have provided in supporting local authorities to deliver a safe and secure environment.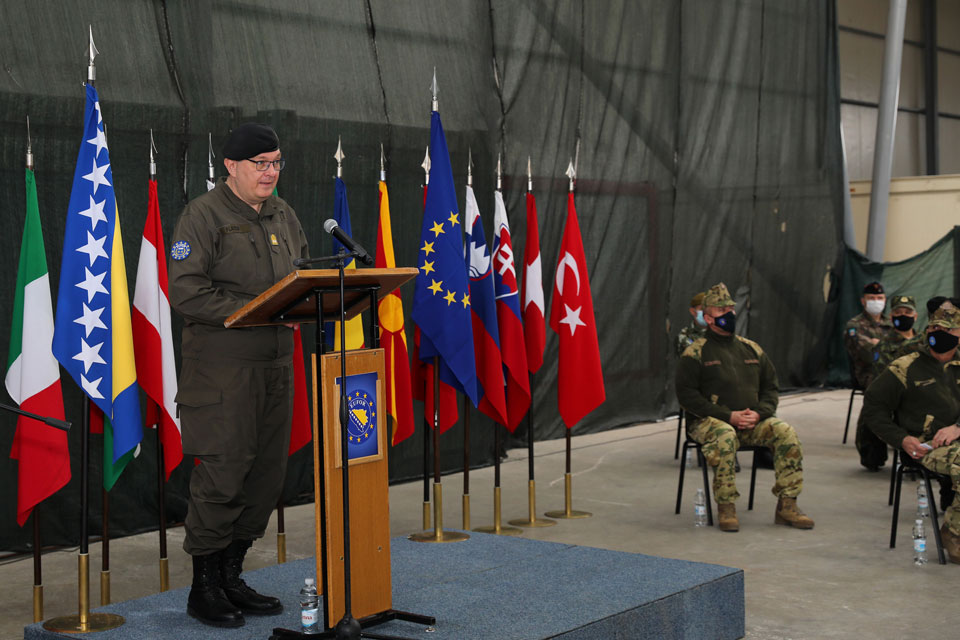 Also in attendance to witness the parade were a number of Ambassadors and representatives from the embassies of the troop contributing nations on parade today. COM EUFOR awarded the medals along with EUFOR Chief of Staff Brigadier General Ernő Baráth, Colonel Gökçegöz and Colonel Bakalov.
During his address Commander of EUFOR, Major General Alexander Platzer highlighted the importance of the multinational constitution of the EUFOR personnel;
"You represent the practical and positive affirmation of support from your governments and your armed forces to EUFOR and to the people of Bosnia and Herzegovina."
The medal, bearing the name of the EU Operation Althea was first awarded in 2004 to every International member who serves with EUFOR. It is inscribed with the Latin phrase "Pro pace unum", meaning "United for peace".