On 13 May 2020, COMEUFOR, Major General Reinhard Trischak, took part in a ceremony of remembrance at Camp Butmir in honour of the 23 Spanish soldiers who have lost their lives in Bosnia and Herzegovina.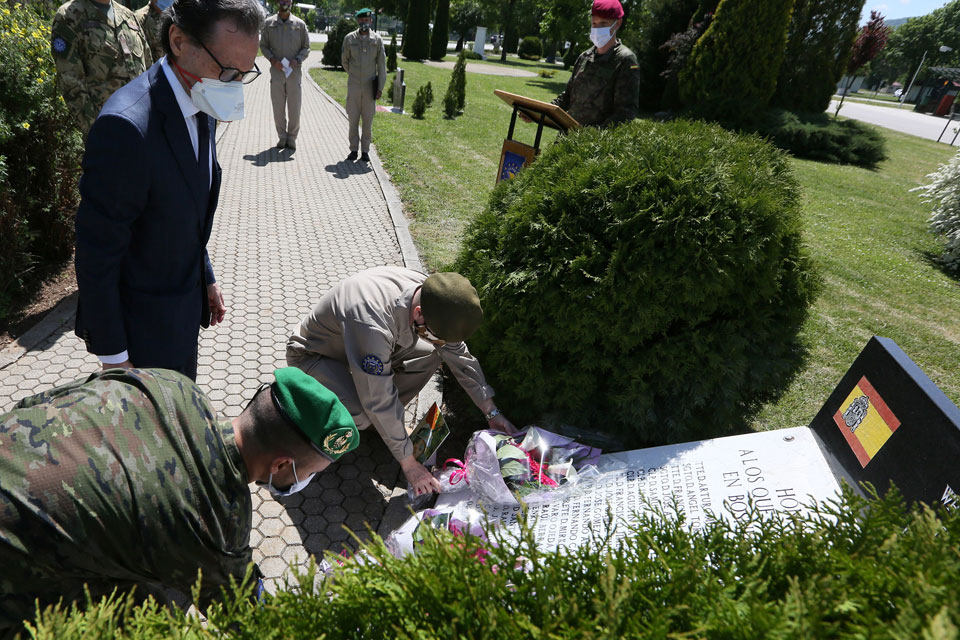 The service took place at the Spanish Fallen Soldiers monument in Camp Butmir's memorial park. It was also attended by the Spanish Ambassador, His Excellency José María Valdemoro Giménez, Commander NATO Headquarters Sarajevo, Brigadier General William Edwards, EUFOR Chief of Staff, Brigadier General László Szabó, and EUFOR Chief of Staff (designate), Brigadier General Ernő Baráth.
Major General Trischak said:
"Today, our thoughts are with the families, friends and loved ones of these fine people who died so young. This ceremony allows us the opportunity to recall their lives, their exceptional spirit, their professionalism and their contribution to the cause of peace and stability in Bosnia and Herzegovina."
The service took place on the anniversary of the loss of 1st Lieutenant Arturo Muñoz Castellanos on 13 May 1993. He died leading his platoon in a convoy escort operation, delivering blood supplies to hospitals located in Mostar, when he was hit by a mortar grenade. He was one of 11 Spanish soldiers killed in action during the Kingdom of Spain's first year of involvement in BiH.
More than 45,000 Spanish military personnel have served with great dedication in this country since 1992. For almost two decades their military has contributed to thousands of convoys that have transported more than a quarter of a million tonnes of food, medical supplies and clothing to BiH. Spanish military engineers also repaired some of the destroyed bridges over the Neretva River, one of which was the iconic Bridge of Titus.