On 13 March 2020, COMEUFOR, Major General Reinhard Trischak, and the Hungarian Ambassador in Bosnia and Herzegovina, His Excellency Krisztián Pósa, gathered at the Memorial Park in Camp Butmir to unveil a Memorial Stone in honour of all the Hungarian Soldiers who have served in Peacekeeping Missions throughout the World.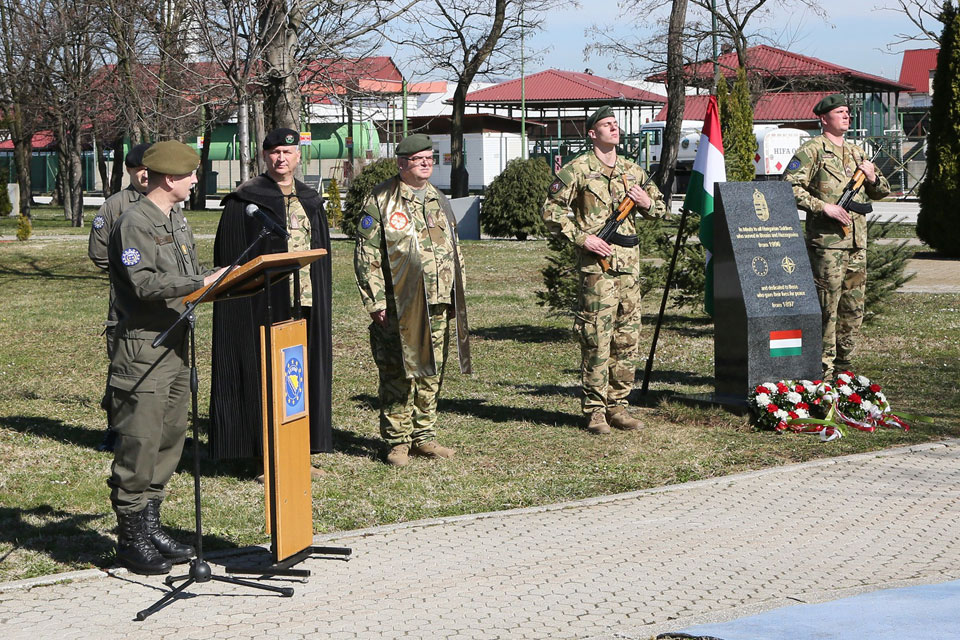 The ceremony was also attended by COSEUFOR and the Hungarian Senior National Representative, Brigadier General László Szabó, officials from the EUFOR Headquarters and all the Hungarian soldiers in Camp Butmir. Representatives of the Hungarian minority in Bosnia and Herzegovina were also present.
After the speech of the Hungarian Ambassador, a blessing was given by Hungarian military priests, followed by a wreath laying ceremony at the Memorial Stone. The Commemoration ended with the speech of Major General Reinhard Trischak.
"Hungary is the largest contributor to EUFOR ALTHEA with 238 personnel. Your contribution is one of proud and loyal service. Today, as EUFOR we celebrate the Hungarian Peace Keepers and we mourn the loss of those who did not return home to their beloved families. We celebrate all their lives and their dedication and devotion to duty,"
said COMEUFOR.
"EUFOR has and will continue to support the Bosnia and Herzegovina authorities in maintaining a Safe and Secure Environment for its peoples. EUFOR's presence, the Hungarian Contingents presence, enhances the feeling of security among the local population. It is really important that we remain an overt, visible and tangible representation of commitment on behalf of the EU and of the wider international community to assure and reassure the citizens of BiH that we care about their security."