On 19 February 2020, EUFOR personnel from Camp Butmir took part in the International Military Sports Council (CISM) 'Run for Peace' to mark the International Day of Military Sports.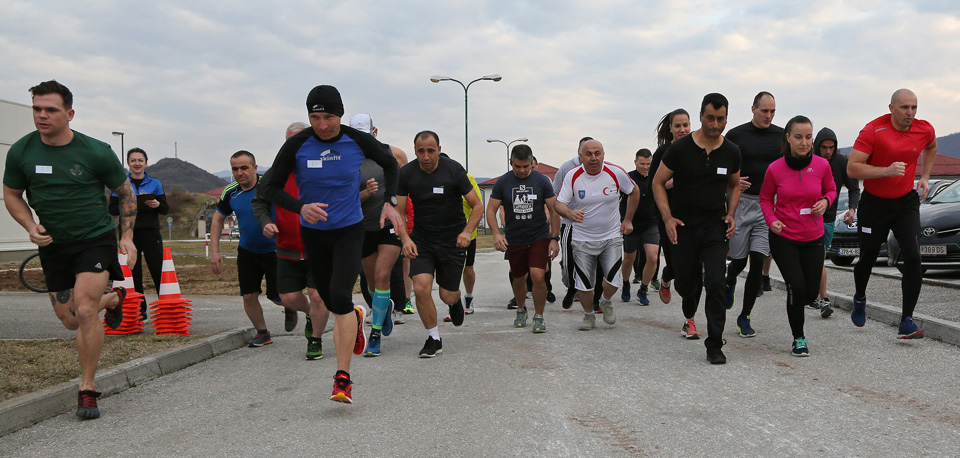 Two races were held over distances of 5km and 2km, with 25 men and 5 women competing in total. The runners ranged from those with a competitive aim to those just happy to take part and enjoy the activity in the open air.
Event organiser, Captain Mark Cullagh, said:
"The CISM Day Run for Peace was a big success. With good weather conditions on the day, it made for a competitive and well attended event. We had male and female competitors all ages, who all displayed the great characteristics that you would expect of military personnel worldwide and especially in this camp. Everyone displayed great commitment, determination and physical fitness. We had some fantastic individual performances, with people finishing their race in extremely fast times.

"For me the most impressive thing was the people. Everyone was professional, friendly and the camaraderie among the group was great to see. A very enjoyable event, with new friendship formed, new t-shirts and some medal winners."
He continued: "I would like to take this opportunity to thank and congratulate everyone who participated in the event."
Since the first edition in 2006, the event is held every year on 18 February. EUFOR's event was delayed by a day due to poor air quality. The event aims at promoting the practice of sports in the military context, bringing together all communities of Sports, including Sports Federations, Olympic Committees, and other International Institutions in contact with the Armed Forces and Ministries of Defence.