On 4 February 2020, COMEUFOR, Major General Reinhard Trischak, welcomed the Swiss Chief of Joint Operation Command and Deputy Chief of the Swiss Armed Forces, Lieutenant General Aldo C. Schellenberg, accompanied by the Commander of the Swiss Armed Forces International Command SWISSINT, Colonel Alexander Furer, to Camp Butmir.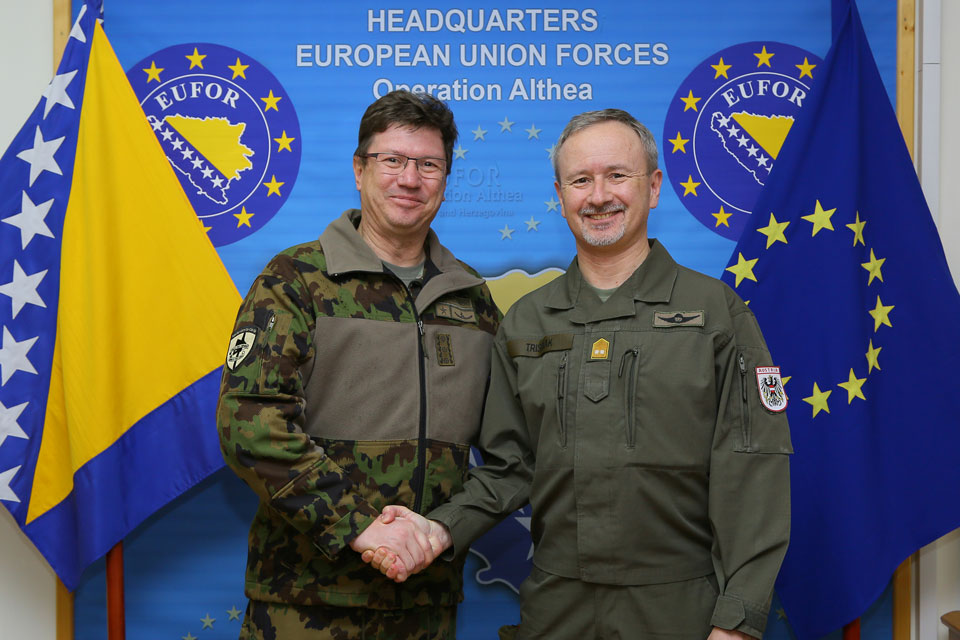 During an office call, Major General Trischak gave an update on EUFOR's current activity and the situation in the country. They discussed the good level of cooperation that exists between EUFOR and Switzerland and Lieutenant General Schellenberg reiterated the Swiss commitment to the mission.
Before the meeting, Lieutenant General Schellenberg took time to meet with the Swiss troops of the Liaison and Observation Team (LOT) houses in Trebinje and Mostar, which offer mine awareness training to local schools and meet with members of the community in order to monitor the security situation.
In Čapljina, at Božan Šimović Barracks, Lieutenant General Schellenberg was received by Major Alberto Prince, Assistant Special Ammunition and Weapons Advisor. Major Prince gave a short presentation on the Ammunition, Weapons and Explosives Master Plan and showed him the Marking & Registration activity of Small Arms and Light Weapons, implemented by the HALO Trust, and the main focus of the Master Plan for 2020.
Major Prince said:
"Lieutenant General Schellenberg knows what we are doing in BiH, it is not his first visit, and he has already been briefed about the AWE Master Plan, but it was his first time at a Marking and Registration Location. It is important not only to brief, but also to show what we are doing."
Swiss troops also provide some Staff Officers, Project Officers and the Special Ammunition and Weapons Advisor to COMEUFOR. They coordinate, support and monitor all the activities, projects and stakeholders within the BiH Ammunition, Weapons and Explosives Master Plan for the transparent disposal of surplus ammunition and weapons and the introduction of a sustainable life-cycle management in BiH.