On Monday 15th October in perfect conditions, the Mountain Rescue Team from Novi Grad, Sarajevo arrived at Camp Butmir to practice their skills and enhance their cooperation with EUFOR by taking part in a combined training day with the EUFOR Search and Rescue (SAR) helicopter. They were joined by colleagues from the IIidža rescue team, Civilian Protection Agency of municipality Novi Grad, and the Federation BiH Civilian Protection Agency.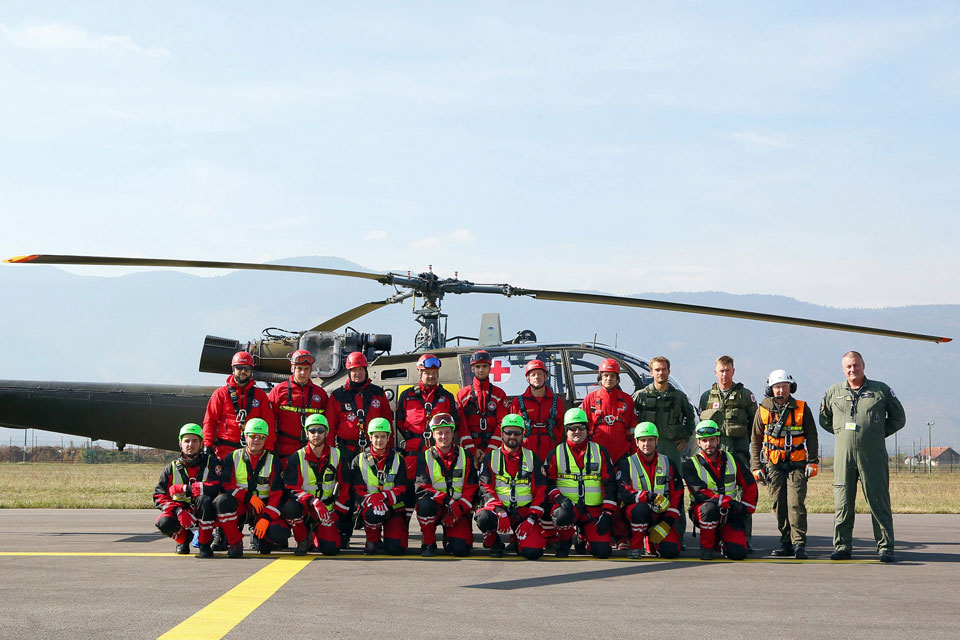 The morning's activities including a two-way teaching and learning session in which the theory of mountain rescue was discussed, following this the teams checked how compatible their equipment was with the other unit.
Before lunch the practical element began with all the members of the team taking the chance to practice winch training with EUFOR's Allouette 3 helicopter.
The afternoon session was a 'real life' training exercise which involved preparing a casualty and calling in the helicopter for medical evacuation (MEDEVAC).
Mr Fahrudin Dobrača, Leader of the Mountain Rescue Team from Novi Grad, Sarajevo explained how useful the training had been:
'This course is important in order to synchronize procedures of different players with EUFOR, and the system that is in place when the need for this rescue helicopter occurs.'