Today the Chairman of the EU Military Committee (CEUMC), General Michail Kostarakos visited Camp Butmir and completed an Office Call with COMEUFOR, Major General Martin Dorfer.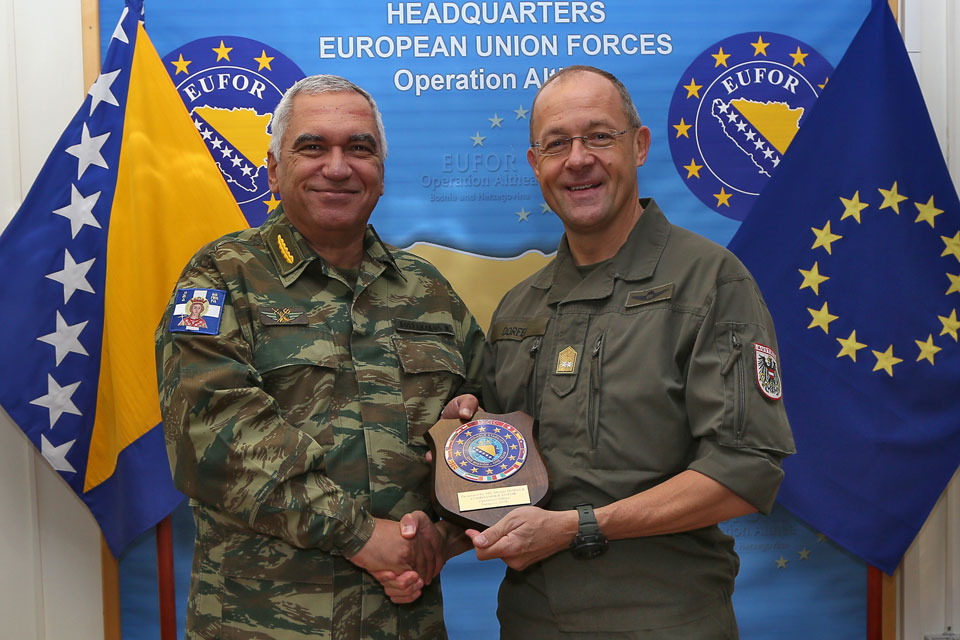 The main purpose for his visit to EUFOR is to commend, on behalf of the EU Military Committee, the work of the EUFOR mission in BiH and to emphasise its essential roles in helping BiH authorities to maintain the safe and secure environment and to provide mentoring, monitoring and training to the country's Armed Forces.
Later in the day he also visited the German Embassy and The Ministry of Defence which was a great opportunity to express the EU's gratitude to Bosnia and Herzegovina Armed Forces personnel for their participation in EU CSDP missions. Bosnia and Hercegovina is now for a second year providing a high quality contribution to the military mission in Central African Republic, for which the EU is very grateful.
Lastly, since this visit is close to the end of the CEUMC's tenure, is a perfect moment to praise, once again, the personnel of the EUFOR Op. ALTHEA for their professionalism, their dedication to the mission and their outstanding performance.