After six months service in the Bosnia and Herzegovina area of ​​operations, the outgoing Commander of the Multinational Battalion, Colonel Hartmut ÖMER, handed over command at 05 March 2013, to the new commander Lt. Col. Alfred STEINGRESZ.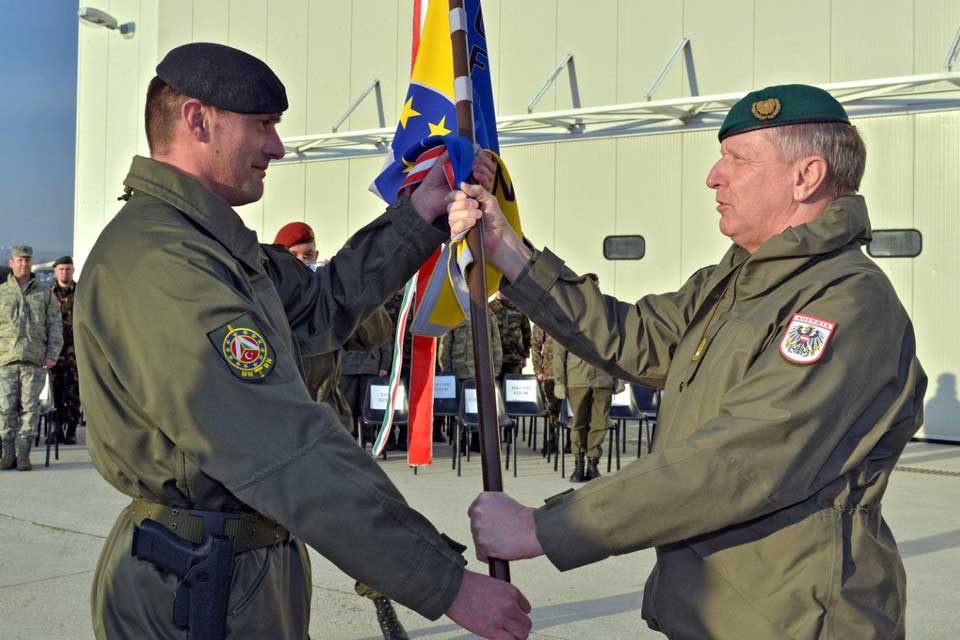 The Change of Command Ceremony, held in Camp Butmir, was commanded by the Hungarian Deputy Battalion Commander Major Zsolt Penz with many special guests and VIP present.
Handover Ceremony
Deputations from a variety of nations gathered in Camp Butmir to in the presence of the Commander of the EUFOR, Major General Dieter HEIDECKER, who passed the standard of the multinational battalion to its new commander. Since 1996 Austrian soldiers have played a lead role in preserving the peace in Bosnia and Herzegovina. A Turkish Infantry Company, Hungarian and Turkish staff officers and NCOs contribute to the strength of the MNBN battalion. This is a positive example of successful multinational cooperation which will continue under the new commander.
New Multinational Commander Has Extensive Overseas Command Experience
Lieutenant Colonel Alfred STEINGRESZ comes from Ried in Austria, which is also the base of 13th Infantry Battalion, the military unit, where he has spent much of his military career. As the 13th Infantry's Deputy Battalion Commander, he had wide-ranging responsibilities for staff working in the battalion and has twice been appointed as a company commander which included command of the Austrian national element (AUTNE) in Kosovo (KFOR). In addition Lt Col STEINGRESZ has participated in numerous national and international exercises working with a wide variety of armed forces of many nations.
STEINGRESZ in his inaugural speech, laid out his leadership principles to which the MNBN should adhere stating he and his soldiers should: "Fuehren mit Kopf, Herz, Gelassenheit und Humor," which means, "lead with intelligence, heart, toughness and humour "
Farewell and Looking Forward to New Challenges Ahead

The outstanding leadership of the battalion by Lieutenant Colonel ÖMER was emphasized by all speakers and he returned to Austria bearing the best wishes of all present and their congratulation on a job well done.
The new commander for the conduct of the Battalion was warmly welcomed to his new command post and is keenly looking forward to the challenges of the next 6 months and in particular the Operational Rehearsal 2.2 - Exercise Quick Response – which will run this year between 15 to 28 April.