From 18 to 22 March 2013 a joint training program held in Glamoc with Turkish soldier from EUFOR's Multi-national Battalion (MNBN) and the 6th Brigade of the Armed Forces of Bosnia and Herzegovina (AF BiH).  The training was led by the commander of the Turkish Company within the MNBN Captain Ergun Düzü.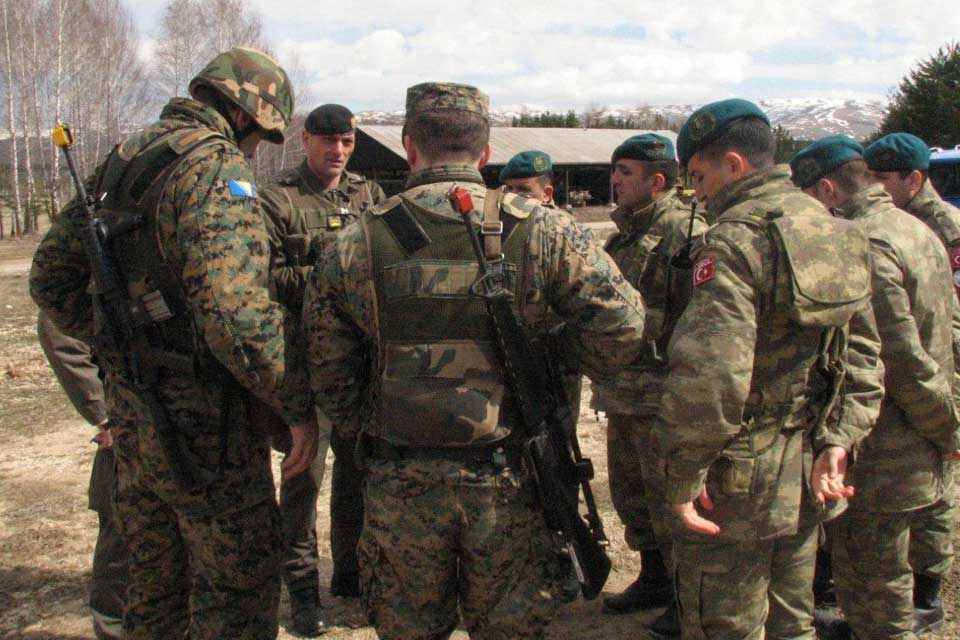 Training Focuses on Managing Convoys, Military Escorting and Managing Emergency Situations
The focus of the joint exercise was to train essential skills in the escorting transport convoys and the correct response to containing the threat posed by roadside mines and the need to overcome a range of technical challenges in an ambush situation.
An Impressive Performance
The Austrian commander of the Multinational Battalion Lieutenant Colonel Alfred STEINGRESZ, who is also in overall command of the Turkish Company, was impressed by the performance and levels of co-operation shown between the MNBN troops and participating soldiers from AF BiH.
An important part of the exercise was demonstrating the ability to protect convoys: a range of potential convoy disruptions and threats were simulated in a sequence of different and challenging scenarios.  The convoy and escort training evolutions were supported by a Turkish EOD (Explosive Ordnance Disposal) team and an ambulance squad in order to tackle all the relevant support skills need for convoy operations in a challenging collective and real time training environment.
Lessons Identified and Learning from Shared Experience
The experience of the soldiers of AF BiH gained in overseas missions in Afghanistan and Iraq was clearly evident and enabled them to contribute valuable experience and skills throughout the training exercises.  At the end of the exercises, there was a detailed debriefing of all the participating soldiers.  All the training sequences were analyzed and evaluated by those who took part. The soldiers of all companies were able to benefit from each other experiences: this assists in developing a clear picture of how to maximize future performance and what is necessary to perfect individual and team military skills when dealing with particular scenarios such as escorting military convoys in difficult circumstances.
Sharp Shooting Challenge with Assault Rifles, Machine Guns and Sniper Rifles
The final part of the exercise involved practicing sharp shooting skills on the firing range in Glamoc using, not only standard issue assault rifles, but also a range of machine guns and sniper rifles.