On 10 December 2013 it was time for Colonel (GS) Klaus Jäger to hand over his responsibilities to his successor Colonel (GS) Dieter MUHR. Colonel Jäger, in the course of the last six months, not only was in charge of the Joint Military Affairs (JMA) branch but he was also the Austrian Senior National Representative (SNR) and National Contingent Commander (NCC), and therefore responsible for the entire Austrian National Element (AUTNE) and the presently 200 Austrian military personnel serving with EUFOR Althea in Bosnia and Herzegovina (BiH).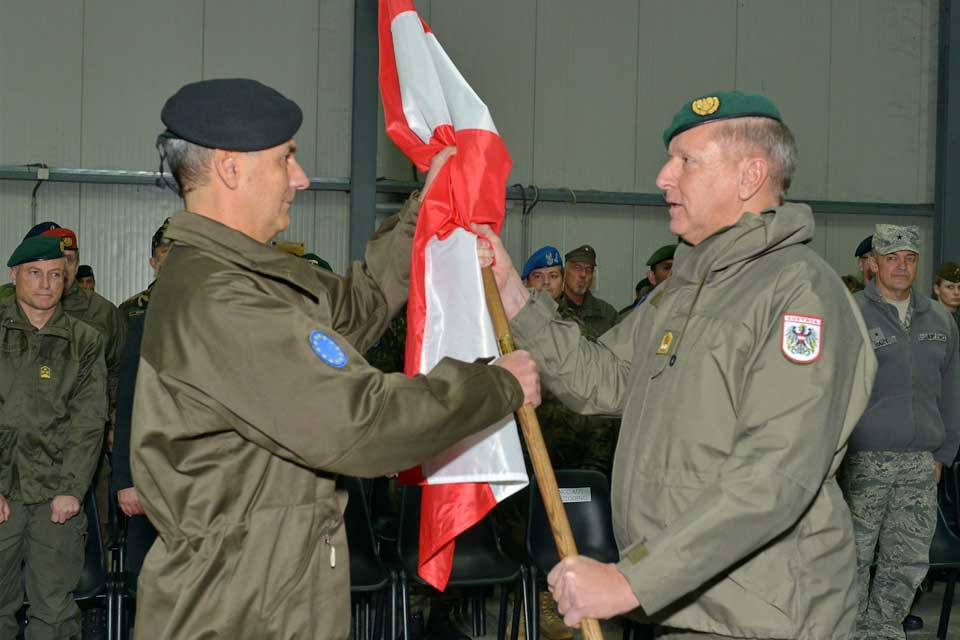 Colonel Jäger took over the position as NCC and the function of Chief JMA at Headquarters EUFOR on 10 June 2013 during a formal ceremony and has since carried out all JMA activities and in parallel has taken care of all Austrian national matters. JMA activities are related to the General Framework Agreement for Peace (GFAP) and are carried out by assisting, monitoring and rendering expert advice to local authorities, the Ministry of Defence (MoD) and the Armed Forces of BiH (AF BiH). The main areas of responsibility of JMA are Weapons Storage Site (WSS) and Ammunition Storage Site (ASS) management, Defence Industry Factories (DIFs), Movement Control (MOVCON) and Demining and Countermines Operations. JMA, as an integrated part of the Capacity Building and Training Division, is also involved in the study, development, implementation of policy-related matters in the area of MoD / AF BiH arms control training in cooperation with international agencies. On 06 December 2013, in appreciation of an outstanding performance during his very successful tour of duty with Mission Althea as the Chief Joint Military Affairs (JMA) branch, Colonel (GS) Klaus JÄGER was awarded a Chief of Staff EUFOR commendation by Brigadier General József SZPISJÁK.
Like most dedicated officers within Headquarters EUFOR, Colonel Jäger has now returned home to Austria with mixed feelings. On the one hand, he is happy that was looking forward to be re-united with his family again; on the other hand he will miss the challenges and the great comradeship he had experienced in this mission. Colonel Jäger was replaced by his compatriot Colonel (GS) Dieter MUHR, a Military Strategist and Political Scientist as well as an IT Project Manager and Cyber Security Expert from the Austrian Federal Ministry of Defence and Sports. The change of command ceremony took place on 10 December 2013 inside Archer Base / Camp BUTMIR in the attendance of high ranking VIP from the International Community, COM EUFOR, COS EUFOR, officers from Headquarters EUFOR as well as troops from the Multinational Battalion and members of the Austrian contingent.