The mission of the Multinational Battalion (MNBN), stationed in Camp BUTMIR in SARAJEVO, is to be prepared to conduct operations autonomously or in support of the BiH authorities or European Union/International Community Agencies in Theatre when requested, in order to maintain a safe and secure environment (SASE). It is the only international military maneuver unit operating in Bosnia and Herzegovina (BiH), presently made up of two Motorized Infantry Companies from Hungary and Turkey and an Austrian led Battalion HQ.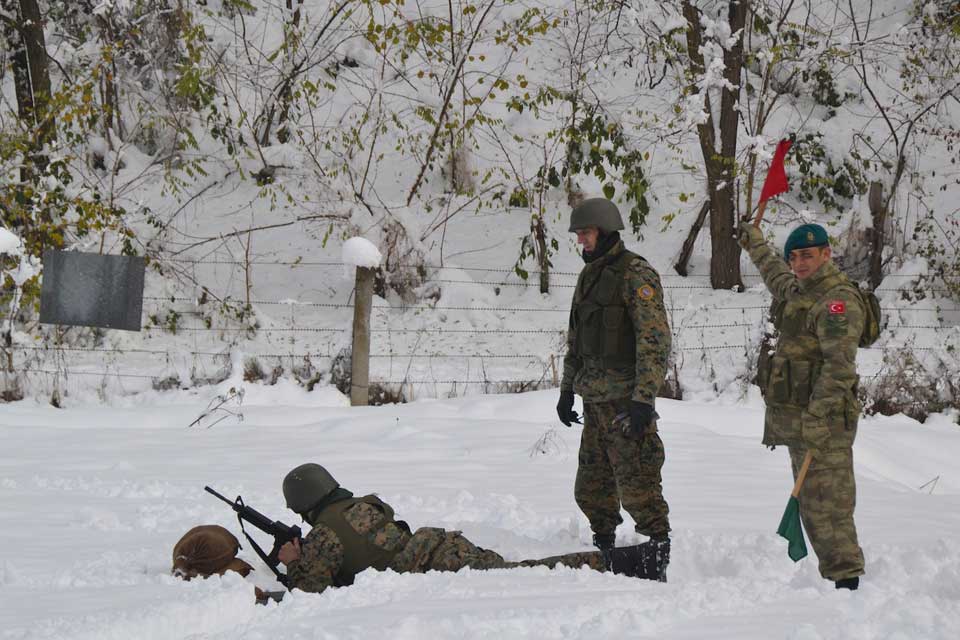 Since EUFOR has increased its efforts in the capacity-building and training of the Bosnian authorities and, in particular, the Armed Forces of Bosnia and Herzegovina (AF BiH), the MNBN regularly conducts joint practices in Peace Support Operations techniques together with the AF BiH. Those practices often include cordon operations; Crowd and Riot Control (CRC), helicopter procedures, occupation and maintenance of Forward Operation Bases (FOB), medical evacuations, life firing exercises and mine awareness training. Additionally, those training exercises are conducted in different areas in order to rehearse and maintain full command and control capabilities and procedures.
As a result of the close co-operation and the overall co-ordination by EUFOR's Capacity Building and Training (CB&T) Division, the EUFOR Operations (Ops) Division, the Multinational Battalion and the Armed Forces of Bosnia and Herzegovina are able to gain valuable experience regarding the challenges in Peace Support Operations (PSOs). According to the decision of COS EUFOR, Brigadier General József Szpisják, the area of co-ordination was extended to include collective training by the CB&T Division to ensure that the military actions rigorously follow the unique conception of the training, covering a large spectrum of incidents and events. The tactical situations usually include a fictive political and military context. So far both parties have proven their capability to act together in planning, organizing, carrying out and evaluating military actions, using common tactics, techniques and procedures (TTPs) in line with the Training Directive provided by COM EUFOR, Major General Dieter Heidecker, for 2013 and beyond.
The latest such joint training took place from 26 to 29 November 2013 at "Comanche Base" in DUBRAVE near TUZLA. It involved one Turkish Gendarmerie Platoon from EUFOR's MNBN and one Reconnaissance Platoon from the 5th Brigade of the Armed Forces of Bosnia and Herzegovina. This time the training mainly focused on Force Protection skills and the correct response to containing the threat posed by potential adversaries during vehicle checks, checkpoint operations and convoys. Due to the fact that both participating units were trained according to NATO standards, the whole exercise was conducted in a very professional manner. Female soldiers were also participating, making body searches of female persons less problematic. The Austrian commander of the Multinational Battalion, Lieutenant Colonel Christoph Blasch, therefore was quite impressed by the performance and levels of co-operation demonstrated between the MNBN troops and participating soldiers from the AF BiH. Another important part of the exercise was demonstrating the ability to protect convoys when a range of potential convoy disruptions and threats were simulated in a sequence of different and challenging scenarios.  Whenever weapons or explosives were found to be in possession of any person that was checked, a Turkish EOD (Explosive Ordnance Disposal) team was tasked to deal with the incident.
The experience of the soldiers of AF BiH gained in overseas missions in Afghanistan and Iraq was clearly evident and enabled them to contribute valuable experience and skills throughout the training exercises.  At the end of the exercise, that was conducted in rough weather and gusty winter conditions, a detailed debriefing took place and all training sequences were analyzed and evaluated. All soldiers stated that they were able to benefit from each other's experience and therefore the motivation was at a high level throughout the whole training period. Such common collective training activities between the MNBN and the AF BiH will be regularly performed also in the future in order to ascertain interoperability and to further develop the capabilities of the AF BiH to deal with all threats, maintaining a safe and secure environment (SASE) in any given international peacekeeping scenario.