Page 1 of 4
On 16 April 2020, epidemiological experts from the Public Health Institute of Sarajevo Canton were invited to meet with senior EUFOR medical personnel at Camp Butmir. The aims of the meeting were to share information and identify improvements in processes, building trust and transparency in the preventative measures employed to combat the corona virus.
Director of the Cantonal Public Health Institute Sarajevo, Prof. Dr. Aida Pilav, and the Institute's leading epidemiologist, Dr. Anisa Bajramovic, met with EUFOR's Medical Advisor, Major Dushko Minev, and senior doctors at Camp Butmir's Medical Treatment Facility. The meeting began by understanding EUFOR's general medical provision, before moving on to matters focused on COVID-19.
Major Minev said: "Today's meeting was very positive. It gave us an opportunity to see that we are already following very similar processes to the local approach to this public health emergency. In addition, we were able to dispel any rumours or concern." He added: "Our levels of hygiene and sanitation are high and we have the ability to use separate isolation and quarantine buildings. We look forward to continuing to build a confident relationship with the Public Health Institute."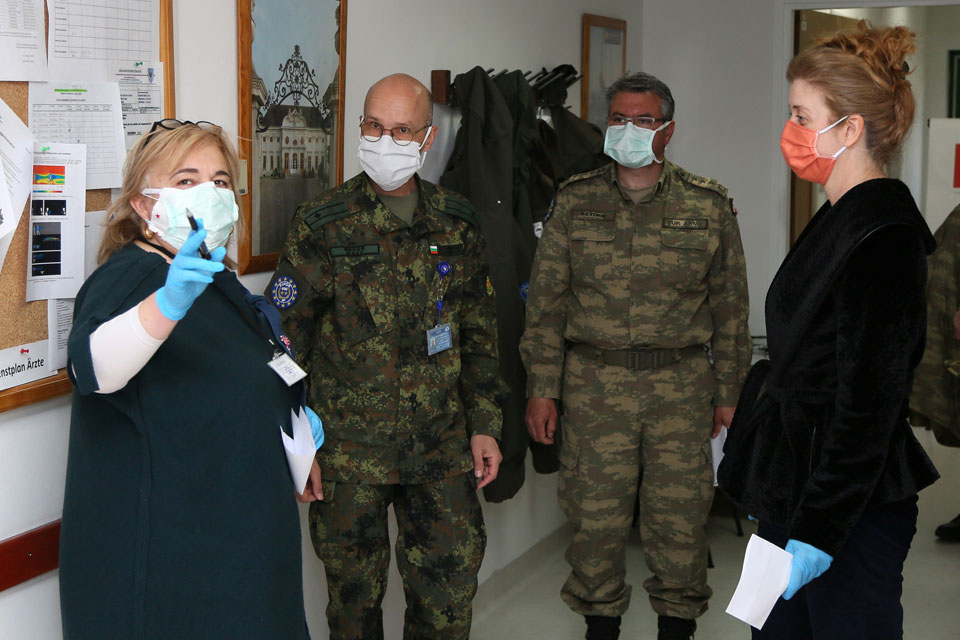 Prof. Dr. Pilav commented:
"I am happy with the discussion here today and the steps that EUFOR has taken at Camp Butmir." She continued: "We have agreed to provide our local protocols for dealing with COVID-19 and we look forward to continuing this cooperation in the future."
There are currently seven (7) confirmed cases of COVID-19 in isolation at Camp Butmir, under the care of EUFOR medical personnel. To date, seven (7) cases have been repatriated to their home countries.