On Thursday 5 December 2019, EUFOR marked the 15-year anniversary of the formation of Operation EUFOR Althea at an event held at the Hall of the Armed Forces BiH, Sarajevo.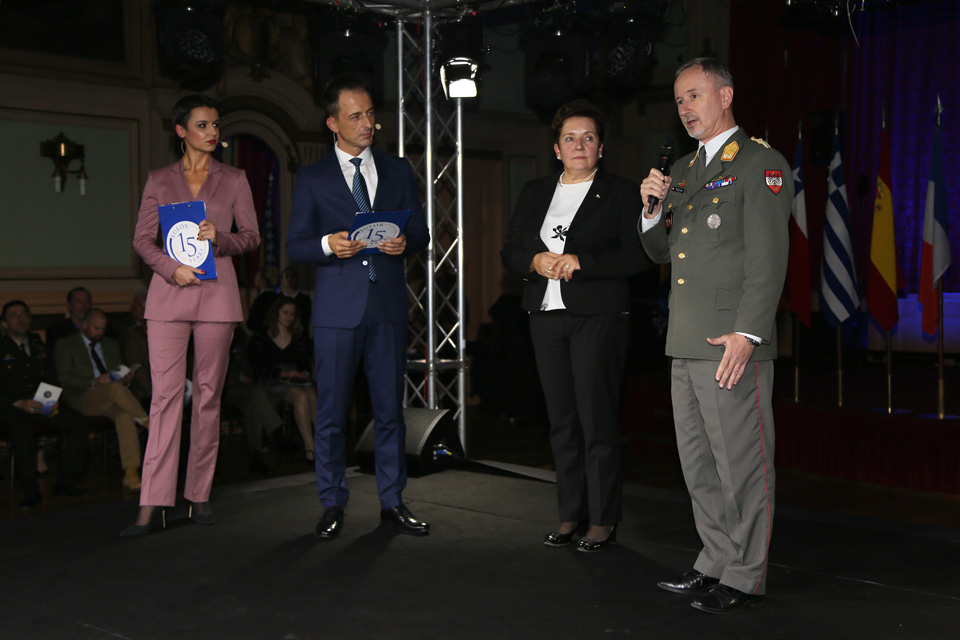 During the event Commander EUFOR, Major General Reinhard Trischak, European Union Special Representative, Johann Sattler, and Associate Professor of Security and Peace studies at the University of Sarajevo, Professor Zlatan Bajramović, took to the stage to give their insights on the history of the mission, memorable moments and important milestones and the EU Integrated Approach. Commenting on the length of the mission, General Trischak said: "EUFOR will leave BiH as soon as possible, but will remain as long as necessary."
The gala was an opportunity to look back on the successful cooperation in Bosnia and Herzegovina during 15 years of Operation EUFOR Althea. These events included working alongside the Armed Forces of Bosnia and Herzegovina and law enforcement agencies to build capacity and training, natural disaster relief efforts, community outreach, weapons and ammunition disposal, de-mining activity and the evolution of Exercise Quick Response, the capability to quickly reinforce in-country troops with reserve forces from partner nations.
Paying tribute to the AFBiH General Trischak said:
"I have met no more dedicated and professional soldiers and Officers than those within the AFBiH". Now that EUFOR's individual training programme has ceased and AFBiH are self-sustaining,
he added: "…they have progressed from a security consumer to a credible and respected security provider."
Many distinguished guests attended, including Minister of Defence of BiH, Ms Marina Pendeš, Chief of the Joint Staff AFBiH, Lieutenant General Senad Mašović, High Representative for Bosnia and Herzegovina, H.E. Valentin Inzko, ambassadors and other dignitaries.
Artistic performances by former BiH champion rhythmic gymnast Amila Terzimehić performing the dance 'Endscopia'; pianist and composer Helmar Hill and saxophonist Herbert Grubmair performing 'There will never be another tonight'; and baritone singer Dr. Thomas Widrich who sang 'The Quest' were enjoyed by the guests.