During his visit to EUFOR, Lieutenant General Olivier Rittimann presided over the International Medal Parade held at Camp Butmir on Wednesday 28 August. 116 soldiers from eleven troop contributing countries were eligible to receive the Operation Althea Service Medal.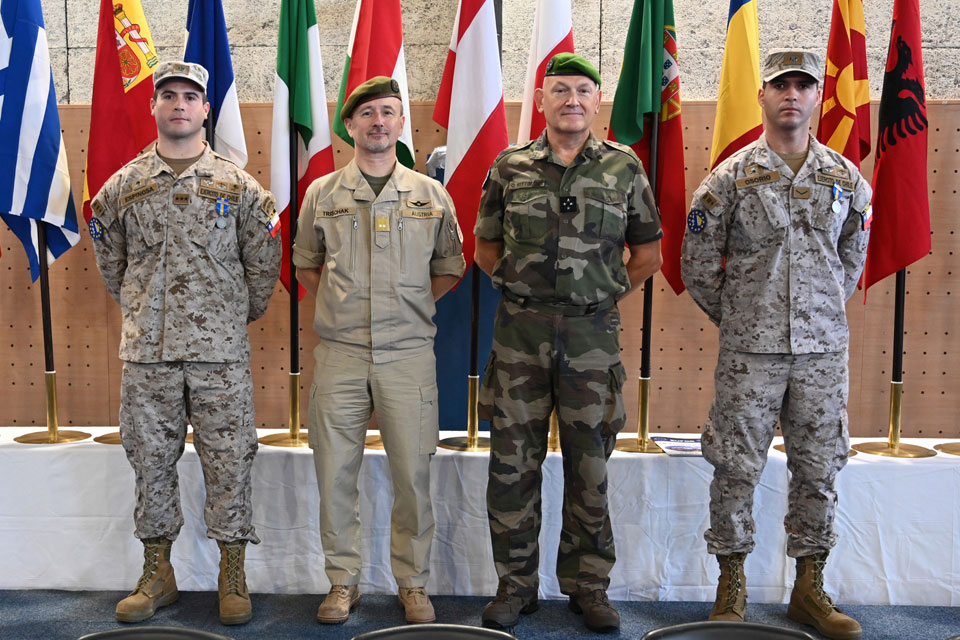 In his address to the troops, Lieutenant General Rittimann said that during his visit he has witnessed determination at EUFOR to change things for the better and added:
"Your presence and the prospect of a larger reserve force at high readiness contributes to a safe and secure environment in Bosnia and Herzegovina. We must continue to ensure that EUFOR remains ahead of any challenge which might occur."
The troops on parade were honoured to receive the medal from a three star general supported by the Force Commander, Major General Reinhard Trischak, EUFOR Chief of Staff Brigadier General László Szabó and Deputy Chief of Staff Operations Colonel Ali Tanis.
The parade was commanded by UK Royal Air Force Wing Commander Tim Lowing. Senior Warant Officer Zoltán Banyai had the honour to guard the EUFOR flag during the ceremony:
"That's my second time in the mission EUFOR Althea and it was once more a big honour for me to receive the EUFOR Operation Medal and being the flagbearer at the same time. Again it was a great experience to work together with a multinational environment and to be surrounded by so many other different nations. Now I'm happy to go home to see my three children again."
Colonel Milen Hristov held the key position of Deputy Chief of Staff Support for the past eleven months. Following Lieutenant General Rittimann's direction to wear the medal with pride he said:
"It is a very big honor for me to receive the Operation Medal from the Operation Commander. I see this medal as a sign for appreciation not only for me, but for the whole Bulgarian contingent and this makes me very proud."
The Operation Althea medal was first presented in 2004 and is a version of the Common Security and Defence Policy Service Medal. It is inscribed with the Latin phrase "Pro pace unum", which translates as "United for peace".