Page 1 of 4
On 15 May 2020, in a Transfer of Authority ceremony held at Camp Butmir, Sarajevo, Brigadier General László Szabó relinquished his position of EUFOR Chief of Staff (COS) to his successor, Brigadier General Ernő Baráth, following the completion of a 13-month tour of duty.
Addressing the parade, Brigadier General László Szabó said: "It was a fantastic tour of exploration, a huge amount of experience, a great deal of work, and a lot of comradeship to me. I am grateful that I found excellent colleagues within the staff…who were able and ready to work together."
COMEUFOR, Major General Reinhard Trischak, commended Brigadier General Szabó, saying: "Your work on restructuring the EUFOR Headquarters, as Exercise Director of Quick Response 19, the most wide reaching and visible exercise for many years, and coordinating measures within EUFOR in response to COVID-19, has been exemplary."
Starting his third tour of duty with EUFOR, the new Chief of Staff, Brigadier General Ernő Baráth, said:
"It is a great honour and a great pleasure," to take up his post. He is looking forward to continuing cooperation with the: "…authorities on the state and local level, the BiH Armed Forces and Law Enforcement Agencies, to foster the well-developed trust and confidence between them and EUFOR."
"It has become clear to me, that the EUFOR community is a well-trained, highly professional and motivated team, and more importantly, strongly committed to our mission," Brigadier Baráth said.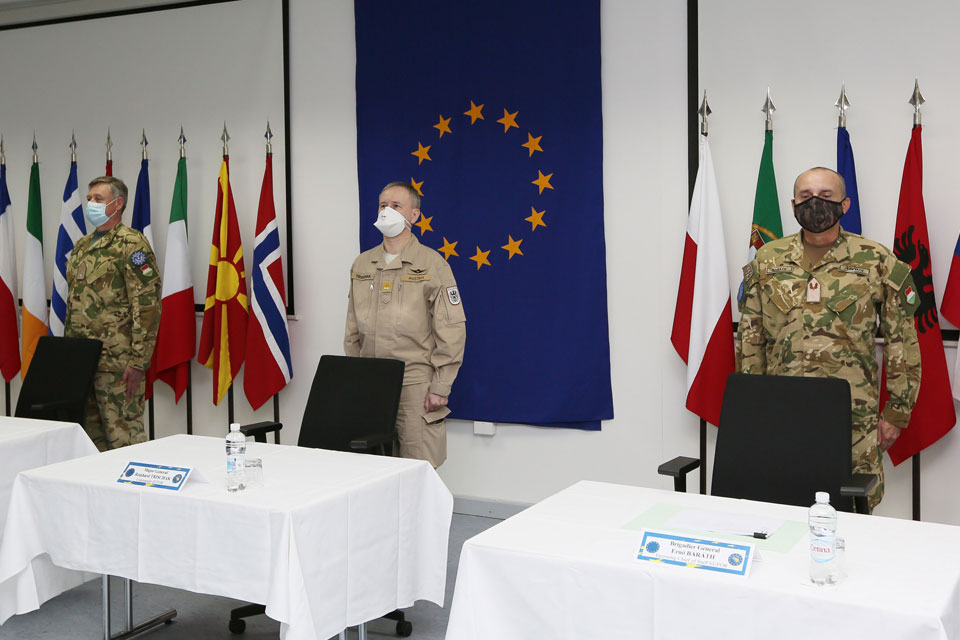 EUFOR Public Affairs Office
HQ EUFOR, Camp Butmir, Sarajevo
Tel. +387 (0) 33 495 393 (BCS)
Tel. +387 (0) 33 495 214 (ENG)
This email address is being protected from spambots. You need JavaScript enabled to view it.
www.euforbih.org